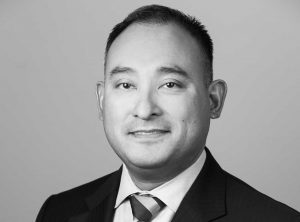 Principal and Senior Counsel
Kenneth Lee earned his Bachelor of Science degree from California State University, Los Angeles in 1993 and was awarded his Juris Doctor degree from Whittier College School of Law in 1996. Upon completion of law school and admission to the California State Bar in 1997, Kenneth was commissioned as an Officer in the United States Marine Corps and served as a Judge Advocate, where he completed tours of duty at numerous duty stations to include Camp Pendleton, California, Marine Corps Air Station Miramar, California, Okinawa, Japan. Kenneth served as a prosecutor with a 99% conviction rate, and also as a defense counsel, defending over 250 Marines and Sailors at courts-martial. While serving as a defense counsel in Okinawa, Japan, Kenneth was named the Defense Counsel of the Year for 2001. In his roles as a prosecutor and defense counsel, Kenneth tried nearly 30 courts-martial to verdict with consistently favorable results for his clients.
Kenneth also deployed to Afghanistan in support of Operation Enduring Freedom, and deployed twice to the Al Anbar Province of Iraq in support of Operation Iraqi Freedom, where he served first with the 13th Marine Expeditionary Unit, Battalion Landing Team, 2nd Battalion, 1st Marines, and subsequently with 1st Battalion, 7th Marines, Regimental Combat Team 7. Since completion of active duty in 2007, Kenneth served as a plaintiffs' trial attorney in products liability cases, where he represented individuals who had been harmed by the effects of asbestos and obtained several favorable judgments for his clients. He also represented numerous service members at Courts-Martial, Article 32 hearings, administrative separation proceedings, as well matters involving security clearances, the Servicemembers Civil Relief Act (SCRA), Uniformed Services Employment and Reemployment Act (USERRA), and General Civil Litigation. Kenneth remains active in the U.S. Marine Corps Reserves, where he holds the rank of Lieutenant Colonel. He is now a part of the Schweitzer Law Group where his focuses his practice on Family and Military issues.